BIO
WILLIAM JASON MCMASTER – born 3/18/1965 in Corpus Christi, Texas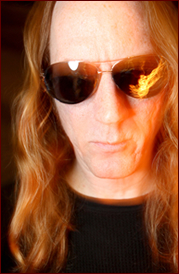 Jason is a fan of all music. He found his way around the music world on his family's record collections, and seemed to grow towards Elton John, Kiss, Queen and any over the top styles. Certain things seemingly found their way into his personal collection of music as the birth of punk and early heavy metal was making its way into pop culture around the time Jason was a young teen, learning songs by lifting and dropping of the needle into the grooves of his fave records after school and weekends.
Growing up with three brothers who all loved music, influences abound throughout the household.
Jason started on his music career armed with his brothers 3/4 size acoustic guitar and a Kay brand bass guitar bought by mother and oldest brother. Playing early shows in backyards and veteran halls, he was only immulating his idols and what he loved about them on the records, as well as pictures in Circus and Hit Parader. Little did he or anyone in his family know, he would be in the pages of those magazines a decade later.
1978-79-first band called RAMPAGE, as bassist.
1980 moved to Austin, TX to play music. ("I feel like my musical life didn't even start until that moment").
1981 started band, FALLEN ANGEL-bass/vocals .entering the already budding Austin music scene playing covers, still only 17/18 years old.
1982 joined WATCH TOWER, and cut his teeth as a front man for what would grow to be massively influential on some of the biggest names in rock music,("technical thrash metal" long before genre specific names such as math metal or progressive metal )- the band opened for most of the band that went on to make successful gold and platinum careers in the genre of heavy metal, some of those are SLAYER, ANTHRAX,TROUBLE, KING DIAMOND and more…
– Bands that cite WATCH TOWER as an influence publicly-DREAM THEATER, CYNIC, DEATH…. Watch Tower continues to be legendary in being publicly proclaimed by press and historians in the genre of metal/rock, as
"Pioneers of Progressive thrash metal".
1985- Watch Tower releases debut-Energetic Disassembly.(Jason Vocals)
1986- Jason is courted by Vinnie Paul Abbott to audition for Pantera. He gets the call twice in one month, due to commitments to Dangerous Toys and other projects,he turns it down both times.
1988- At age 23/24…McMaster leaves Watch Tower -and joined cock rock/hard rock, glam rock band, DANGEROUS TOYS, as front man/song writer. Signed to CBS in 1988 (was a year later bought by Sony music) Columbia records. Two number one MTV videos in 1989 from debut self titled release May 9, 1989 – Dangerous Toys has two gold sales awards on Columbia Records. (Self titled 1989 and 'Hellacious Acres 1991), The debut charts on Billboard.
-Dangerous Toys 1989/90 tours with rock icons The Cult, L.A. Guns, Warrant, and Kix as well as (1990/91) Motorhead, Judas Priest, Metal Church, and Alice Cooper on a Sony music summer tour (Operation Rock N Roll) upon the release of the bands sophomore release, Hellacious Acres.
– Dangerous Toys rides out a successful touring career, but opts out of SONY deal by 1992, for a smaller DIY Independent recording deal with Antones/DMZ label by 1993 through 1996 in hometown Austin. The band releases two more studio recordings,1994-"Pissed", and 1995 "The R-tist 4-merly Known as Dangerous Toys", both were re-issued in 1999, as well as a collection of live recordings, "Vitamins and Crashhelmets Tour-Greatest Hits Live" on Deadline/Cleopatra Records, worldwide.  Deadline then, on its own, releases a greatest hits collection called "Kings of Sleaze" with wretchedly bad cd art.
-The 1999 live record included 7 tracks taken from Westwood One's "King Biscuit Flower Hour", taken from a concert recorded at the Orpheum Theater in Oct.1989 in Boston.
-1997 Jason joins San Antonio based, The UNION UNDERGROUND, as bass guitarist for a two year stint
-the same year, McMaster joins Austin industrial metal band, TERMINAL 46, on guitar, for a two year stint.
by the end of 1998, McMaster joins forces with a new act, GAHDZILLA MOTOR COMPANY, as bassist/front man-lead singer/songwriter. in order to write and record with GMC, Jason leaves both T-46 and U/U.
1998- Jason Is inducted into the "Texas Music Hall of Fame" at the Austin Chronicle's "Austin Music Awards".
1999- Courted by Dave Snake Sabo from Skid Row to audition as lead vocalist, Snake calls twice, same as the Pantera offer, turns it down for the same reasons.
1999 WATCH TOWER reunites to record a cover song for a tribute to the popular German metal band ACCEPT, for a tribute CD for Nuclear Blast Records (Germany)
1999- forms BROKEN TEETH,with writing partner,Paul Lidel (Dangerous Toys, Dirty Looks) with the release of a studio project produced by Perris Records, soon becomes a full fledged band/ live act. Broken Teeth now has successfully toured the US doing easily over 1000 shows since 2003, with 8 full length releases, 1 EP, as well as two DVD concert videos.  In 2019, Broken Teeth re-issued "Electric" on vinyl.
2017 Broken teeth release their eighth studio record "Four on the Floor" on David Ellefson (bassist for Megadeth) on his EMP Label group. The band is currently playing regionally in texas and is about to start writing/ recording new material.
(Note- UK,Manchester hardcore punk group with the same name, Broken teeth, refuses to change the name as Broken Teeth own the US Registration (Trademark) of the name, but not internationally because of the cost of attourney fees- Broken Teeth started in 1999, the UK band are losing this race as far as the grandfather clause)
2000-Watchtower is asked to play the popular German metal festival,"Bang Your Head", in Balingen, summer of 2000, with the Scorpions, Saxon, and UDO ( former lead vocalist for ACCEPT) and many other European metal bands that were early influences of Watch Tower.
-The band does pre festival warm up shows in Texas.
2001- McMaster is ordained. Non-Denominational. (Nicknamed, "Pastor McMaster from the Church of Disaster" by fellow band mate, Scott Dalhover- Dangerous Toys)
2003 McMaster hosts his own show on "The Austin Music Network"- THE HARD SHOW- where he made home playing all rock and metal/punk videos for Austin cable channel 15.
-GAHDZILLA MOTOR COMPANY- records 17 songs for two records worth of material, written between 1999 and 2003, the bands demos as well as new updated recordings become a favorite among heavy metal collectors of unreleased demos, etc, underground label executives, and press pundits, as '"the next big thing". described by some publicly in press as "Sci-Fi- Metallica".
GMC dis-bands that same year
2004- Watch Tower is invited to headline the "Headway Festival" in Amstelveen Holland. Show held at P-60 in Amstelveen near Amsterdam in summer 2004.he Band again, does warm up shows in Texas .
2005 McMaster is called by long time friend and drummer for the progressive rock group Dream Theater, Mike Portnoy, to be the vocalist for a Tribute to Canadian band, RUSH, for a one night only performance at the Vic Theater in downtown Chicago, lL.- the show was recorded live and on film, and is available on DVD and CD at www.mikeportnoy.com.
Other musicians included in the project were guitarist/virtuoso – Paul Gilbert (RacerX and Mr. Big), and Sean Malone on bass (Jazz theory instructor at the University of Florida, and bassist for progressive metal group, Cynic)
-Hired as Music Instructor/Show Director at the "School of Rock" Austin chapter, a corporate music school for kids and adults focusing on all types of rock music and music lessons in general. (The School of Rock works with the community to help build confidence and social skills among young people through rock music, with over 50 schools nationwide).
2007 – Joins gothic power metal band IGNITOR as front man and releases "The Spider Queen" on Heavy Artillery records in the USA and Canada, and on Cruz Del Sur records in Europe and other territories.
2009- IGNITOR records-"Year of the Metal Tiger" for MVD Records Worldwide.
2010-McMaster is honored with a star and is inducted into the "South Texas Music Walk of Fame", in hometown Corpus Christi,Tx.
-Ribbon Cutting Ceremony and Concert is set for June 3, 2011.
– New Broken Teeth-"Viva la Rock, Fantastico" is released. Perris Records, Worldwide.
-New Ignitor-"Year of the Metal Tiger",is released.
– New Dangerous Toys- "XX" -20th Year Anniversary Celebration- DVD is released on MVD, Worldwide.
-Joins EVIL UNITED, a group formerly known as" Pitbull Daycare" to write and release thrash/power metal material.
2011- EVIL UNITED Release Self Titled disc on MVD Worldwide
2012- Watchtower is inducted into the Austin Chronicle Texas Music Awards- "Hall of Fame Award".
2013- Ignitor Releases "Mixtape '85", A 70's and 80's Thrash and Classic Metal covers album
Broken Teeth and Evil United release singles for Pre Full Length Downloads.
Broken Teeth-Devil on the Road and Flamethrower…Evil United- Viking Funeral
2014- EVIL UNITED- Honored by Fire-MVD Worldwide
2015- Jason's leather pants from the first Dangerous Toys Tour circa 1989, are displayed in the Texas Musicians Museum, in Irving TX.
Broken Teeth plays the grand opening concert with other Texas Artists.
-Broken Teeth-Bulldozer EP- Texas Metal Underground records/Killingbird records
-Jason records new original Christmas song in the style of Sinatra,Connick Jr.- "Christmas Everybody" available on Itunes.
2016- Dangerous Toys is inducted into the Austin Chronicle Texas Music Awards- "Hall of Fame Award".
-Ignitor-May 6, play at Ragnorokkr- Chicago metal fest with bands from all over the world.The y play new material from a forthcoming release,currently finishing.
-Evil United release "Serpent" full length LP, on Combat/EMP Label Group Worldwide.
-Broken Teeth currently recording new full lenth release due out this year.
-Throughout his career, Jason has contributed to many releases paying tribute to popular artists and has done Video Cameos. Also,featured singer/back up singer, percussionist, bassist, too numerous to mention. (Including some of the biggest names in rock in some of these collaborations Some include members of Skidrow, Carmine Appice (Rod Stewart band), George Lynch (Dokken), etc…
2017 – JASON JOINS FORCES WITH PROGRESSIVE/ETHEREAL DOOM/DEATH METAL SUPER GROUP "HOWLING SYCAMORE" .MEMBERS INCLUDE MAIN WRITER/CREATOR , ITALIAN GUITARIST DAVIDE TISO( EPHAL DUATH,CIRCLE OF WITCHES ) AND DRUMMER HANNES GROSSMANN (TRIPTYKON, BLOTTED SCIENCE, NECROPHAGIST, OBSCURA,HATE ETERNAL).
THE GROUP RELEASE SELF TILTED THAT YEAR, AND A NEW RELEASE FOLLOWS.
2019- CURRENT—
IN 2019 WITH "SEVEN PATHWAYS TO ANNIHILATION". BOTH RELEASE OUT ON PROSTHETIC RECORDS.
EVIL UNITED RELEASE "SERPENT " ON COMBAT/EMP LABEL GROUP.
Honorable Mentions in Many Books
"White line fever"(Lemmy, bassist/singer of Motorhead)…mentions road stories of a tour dangerous toys did with Sony related bands summer 1991.
"The Dirt", Motley Crue's book of trials and tribulation. (page 257)
"Are You Morbid-Into the Pandemonium of Celtic Frost" (Tom Gabriel Fischer-singer/guitarist of
Swiss-German death metal group Celtic Frost)
"Kiss and Tell" Favorable review by band members of Kiss on Jason's performance of a Kiss song from a microphone passed in the audience.
"Defenders of the Faith" The true story of Judas Priest- an UN-official biography / stories of the band, with interviews with bands and artists that toured or have connection to the influential metal band,Judas Priest.
Rock journalist Lonn Friend Most known as editor for rock magazine"RIP", book titled "Life on Planet Rock" mentions Dangerous Toys on page 198 (forward written by Lars Ulrich).
DISCOGRAPHY
Numerous Releases
Watchtower
1982 to Present- vocalist
Watchtower Releases:
Energetic Disassembly-Originally Released 1985
Watchtower pioneered the math metal movement, before the media had even given the genre a monicker.
Demonstrations in Chaos- Released 2000
collection of rarities, demos, live performances throughout the bands career
Dangerous Toys
October 1987 to Present
Dangerous Toys Releases:
Debut/Self Titled – Released 1989
Hellacious Acres- Released June 9,1991
Sophomore effort does not as well as the first,but garners new fans,and precedes with a successful tour with Judas Priest, Alice Cooper, Motorhead and other metal legends.
Pissed-Released 1994
Independently released and toured, this cd ended up being considered a favorite by fans and critics alike, band sold and toured on their own terms, punk rock style, for the first time, paid off well. sound on this was a bit darker and moving into different directions without leaving old fans behind.
The R-tist 4merly Known as Dangerous Toys-Released October 1995
A departure, came close to changing the name of the band, sound was different, Jason plays bass/vocals, making this record the least fave by default, leaving old fans in the dust, making new fans of the darker, heavier material, a change subject to the loss of two original members.
Vitamins and Crashhelmets Tour-Live-Released 1999
A live cd containing material showcasing the bands career, from westwood one recordings, to sound desk bootlegs recorded by fans.
Greatest Hits-Texas Sleaze Kings-Released 2003
Not band endorsed, label has bad cover art applied, and misspelled song titles. Good collection of songs, from the live, as well as the pissed and the r-tist releases, spanning 10 years.
Broken Teeth
1999 to Present
Broken Teeth Releases:
Self Titled – Broken Teeth – Released 1999
Guilty Pleasure – Released 2002
Blood on the Radio Live – Released 2004
Blood on the Radio DVD – Released 2004
Electric – Released 2007
Electric the DVD – Released 2009
BANDS & PROJECTS
Watchtower – 1982
Dangerous Toys – 1987
Gahdzilla Motor Company-1997-2002
Broken Teeth – 1999
SSIK (KISS Tribute) – 1991-2006
Ignitor – 2008
Killa Maul (Metallica Tribute) – 2008
Evil United – 2011
MORE…
Spastic Ink – The mostly instrumental project of Watchtower Guitarist,Ron Jarzombek,released "Ink Compatible" in 2004,which featured McMaster's Vocals on 5 tracks(Aquanet,Just a little bit,Multi-masking,In Memory of…,ACRONYM)(like watchtower,very progressive agressive guitar metal, and probably the closest thing to a new watchtower release so far)
Shadows Fall- Century Media Records – The power metal band from Boston covers the Dangerous Toys hit song-Teasn Pleasn on the Gold Award Release of "The War Within" for the Japanese Import 2005 – a "B" side,as well, McMaster joins them onstage ,Backroom Club in Austin,filmed and released the performance of Jason w/ Shadows fall doing the D.Toys classic.-Shadows Fall record the music,send McMaster the master tapes, McMaster records the vocal, Released on DVD -"The Art of Touring"-out on Century Media Records. The track again appears on a Shadows Fall- greatest hits release, "Fall out from the War"2006.
Cygnus and the Sea Monsters-a Tribute to Rush-One Night in Chicago-Jason McMaster-Vocals DVD and CD Drummer Mike Portnoy (Dream Theater).. Guitarist Paul Gilbert (Mr. Big , Racer -X), Bassist-Sean Malone (Cynic)
Various Artists A Tribute to Aerosmith – Guest Appearance, Vocals and Bass
Michael Haaga Plus and Minus Show – Vocals (Background)
Various Artists Best of Both Worlds: A Tribute to Van Halen (MTM) Vocals
Various Artists Best of Both Worlds: A Tribute to Van Halen (Versailles) Vocals
Kevin Fowler High on the Hog – Vocals (Background), Percussion (COUNTRY)
Various Artists Bon Appetite: Tribute to the Bon Scott Years of AC/DC – Vocals, Vocals (Background), Cover Art
Various Artists A Tribute to Vai/Satriani: Lords of Karma – Vocals
Various Artists Fire Woman: A Tribute to the Cult – Vocals, Vocals ,"King Contrary Man", " Peace Dog".(Lead and Background)Liner Notes
Various Artists Leppardmania: A Tribute to Def Leppard – Performer-Track "Let it Go".
Shadows Fall "The War Within" (Century Media Records) Guest Lead Vocals -Track-"Teasn' Pleasn'.
"Eatin' Watermelon" Michael Dvorken and Pals (Childrens' Music) Guest vocals
Lynard Skynard Tribute CD -Deadline/Cleaopatra records 2007(Vocals)
A Motley Crue Tribute CD -Versailles Records 2007 (Vocals- "Kickstart my Heart")
A Judas Priest Tribute (Hell Bent Forever) CD due out in 2008 (Vocals)
Broken Teeth Record-"Devils Child".
Jason also plays bass/vocals with SSIK, a Kiss tribute from Austin(since 1991) as well as A tribute to Judas Priest, Sad Wings, where Jason plays Rob Halford, (2005 to the present) (myspace.com/sadwingstexas)